Office Fruit Box Delivery Melbourne
Compare our fruit box delivery prices and quality
Top quality "fresh from the market" A grade office fruit delivered to your business at great prices and no contracts ever.
No fancy reps or big offices just 30 years experience is why we have the best office fruit  prices in Melbourne and a great mix of beautiful seasonal fruit delivered to your office.
Why not compare our offer with your current office fruit supplier ?
If you'd like to try our Free Sample Fruit Box just contact Jamie and it will be our pleasure to deliver a a fruit box to your office and have you taste the freshness for yourself with absolutely no obligation now or ever.
No contracts because we guarantee great quality and the best priced office fruit in Melbourne.


How much office fruit do you need ?                                             
Min 52 pieces of market fresh fruit.
If you have an office of 20 or more we'd recommend a large box per week
Minimum 32 pieces of Grade A fruit.
If you have an office of less than 20 then our small office fruit box will do the trick
Getting the milk takes time and is a hassle so why not have us deliver your office milk.
We can do daily office milk delivery or every udder day. 🙂
Sydney Morning Herald article discusses… "Fresh is what they say it is."
This ABC segment claims 80% of people don't eat enough Fruit and Veg
No fads just fresh office fruit delivered to you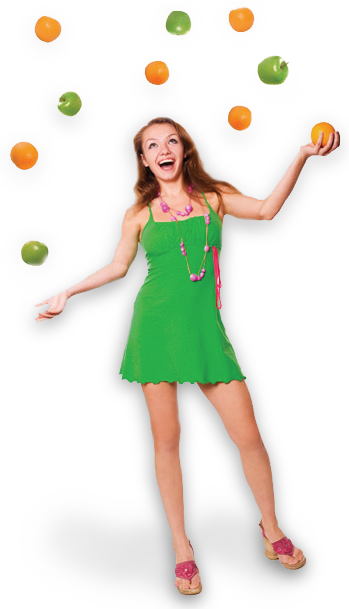 It's not sexy and it's not new but the layers of the Healthy Eating Pyramid as defined by Nutrition Australia are the surest way to good health.
The foundation layers include the three plant-based food groups:
Vegetables and legumes, fruits, grains
These layers make up the largest portion of the Pyramid because plant foods should make up the largest portion of our diet – around 70% of what we eat!
Plant foods contain a wide variety of nutrients like vitamins, minerals and antioxidants. They are also the main source of carbohydrates and fibre in our diet.
Testimonials
"…We can't wait to see what Neil and Jamie have chosen for us on our delivery days. We love the fruit, the service and the price. Oh and the friendly banter too!…"
Michelle G. – Windsor
"Jamie is a really nice guy (and funny too!) You can really notice the difference in the taste and freshness and especially how long the fruit lasts.Lovely people good quality fruit." Beanie "Davina" Beskin, Madfun Kids Discos, www.madfun.com.au
Free Office Fruit Box Delivery St Kilda Road Melbourne , Free Office Fruit Box Delivery Melbourne CBD,  Free Office Fruit Box Delivery Southbank Melbourne, Free Office Fruit Box Delivery Richmond Melbourne , Free Office Fruit Box Delivery Notting Hill Melbourne, Free Office Fruit Box Delivery Mulgrave Melbourne, Fruit Box Delivery Docklands, Free Fruit Box Delivery Port Melbourne, Office fruit Box Delivery Altona, Fruit Box Delivery Laverton, Office fruit Boxes Sunshine, Office Fruit Carlton, Fruit Box Office Delivery Hawthorn, Office fruit Box Delivery Clayton, Fruit Box Delivery Scoresby, Office fruit Boxes Essendon Airport, Office Fruit Moorabbin Airport, Fruit Box Office Delivery Camberwell,